1 February 2005 Johanna's making attempts to crawl. She gets on all fours and rocks back and forth, trying to gather the courage to move a foot or a hand.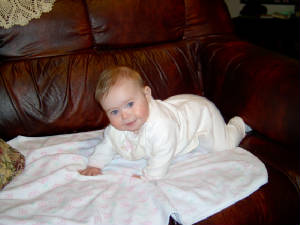 25 December 2004 Opening presents from Grammy and Papa. She loved the bright wrapping paper!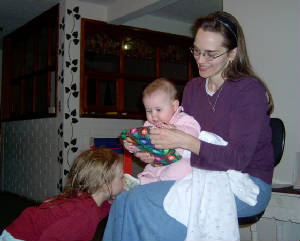 26 September 2004 On this day we dedicated Johanna to the Lord at the mission in Cantel. The people there gave her this guipil (the blouse) and corte (the skirt) to wear for the occasion. I think that belt was a wee bit tight on her!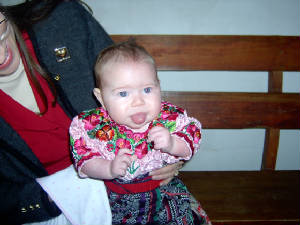 11 June 2004
In the early hours of the morning, our precious Johanna came into the world. She was born right in our own home, in the warm water of our bathtub, surrounded by her family and a couple of friends. It was my first unassisted birth, and my first water birth. I will definitely do it this way again, should the Lord give us another child... Only next time, I'd like to have more room, and use an inflatable pool!